foto mix
Jerzy Troszczyński
(born 1932, died 1977) Probably the most famous film photoreporter. Initially, from 1957 on, he published travel reports, but in a year he started to document the work of film makers on the set. The first movies in production documented by him were "Zamach" by Passendorfer, "Rancho Texas" by Berstowski and "Orzeł" by Buczkowski. Quite soon reportages coming from film sets became his specialty. In 1960, he started to cooperate with "Ekran" and "Wiadomości Filmowe", but soon his photographs of film sets among which there were individual photographic sessions devoted to actors and directors, started to be published in the majority of illustrated periodicals and film books.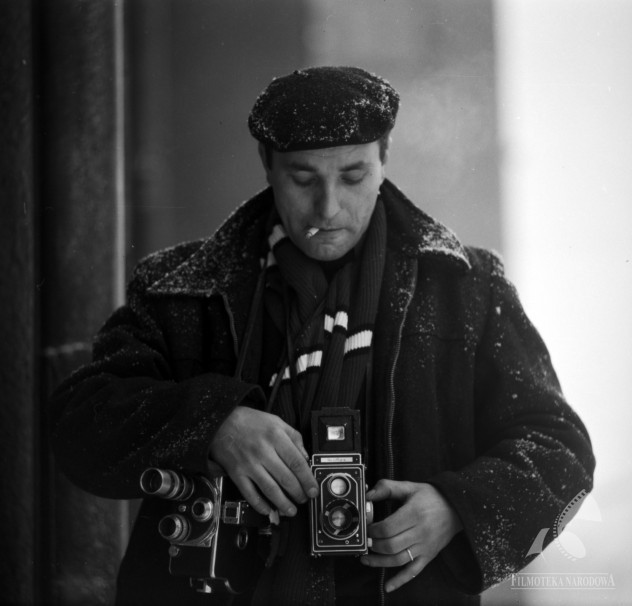 In 1970-71, he was a member of the "Magazyn Filmowy" editorial team, and after bankruptcy of the magazine, he became associated with the "Film" weekly. It was where he spread his wings. "Troszcz – as we all called him – recalls Bożena Janicka, the long-time director of the domestic section in "Film". Quite soon he made friends with Ela Dolińska who wrote various pieces for "Film", and they started to go to the sets together. She wrote reports, he made photoreportages. Troszcz was intelligent, friendly, he was quickly drawn into the life of the editorial team and, which was very important to us – had excellent connections. He was on first name terms with half of the directors and actors. He was well known and appreciated in the film milieu. And thanks to that, we had excellent photographs by Torszcz virtually every week"1.
Probably it was also for the affection filmmakers had towards Troszczyński and his certain acting skills that he was often featured on the screen, in episodic roles. He is clearly visible in the scenes participated by photoreporters , for instance in "Nie lubię poniedziałku" by Chmielewski – the bulky silhouette of Troszczyński always towered above the rest. Once, he was even an extra in SS uniform, in "Zwycięstwo" by Passendorfer...
Soon after his death, "Antyki" by Krzysztof Wojciechowski was released in which Troszczyński played a small role of magician. Troszczyński was also an outstanding illusionist, who under the stage name Remigiusz performed for children and gave illusion shows for adults.
When he died, he was only 45. He left an archive with tens of thousands of negatives which on the turn of 1981 and 1982 were bought by the National Film Archive.
He was awarded the Silver Cross of Merit and the Silver Distinction of Deserved Supporter awarded by the Labour Union of Workers in Culture and Arts.
Piotr Śmiałowski
---
1. Author's interview with Bożena Janicka, December 2013.
---
Gallery
back to previous page