foto mix
WHERE OUR COLLECTIONS COME FROM
When promoting Fototeka in various media, we often heard the question about how Filmoteka Narodowa got hold of all the photos that we scan and publish, and what they really are. So we decided to clarify this issue in more detail.
Let us start with the pre-war stills. Before 1939, there was no institution tasked with archiving or even gathering them. Although Leonard Zajączkowski, the most in-demand still photographer of that time, had his own archive where he kept all the glass negatives of his stills, it was destroyed during the Warsaw uprising. As a result, the original material from which it would have been possible to obtain high-quality prints was irretrievably lost. In addition, the glass negatives archives of other film-set photographers have also been lost, and until today we have managed to find only a very small part of them. Fortunately, some paper prints of the stills have survived, scattered around Poland and sometimes the world.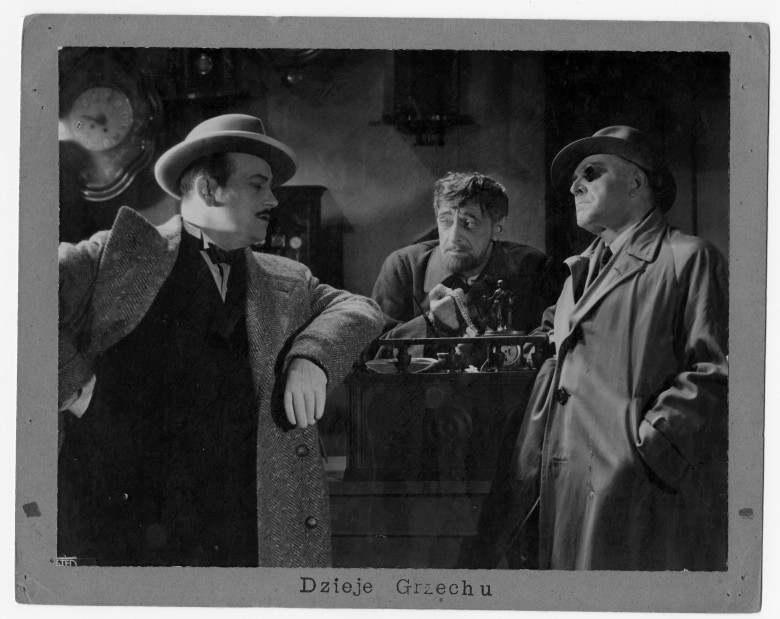 An original pre-war film still, stuck onto cardboard by a cinema owner, with visible pin marks from the cinema's display cabinet.
When Filmoteka Narodowa was established in 1955, the collection of pre-war paper stills had to be started from scratch in the hope that photos had been preserved in large numbers in the private collections of former cinema owners or filmgoers. The first person employed in Filmoteka Narodowa was Władysław Banaszkiewicz, who would go on to become its director. Another employee was Bolesław Michałek, who later became a prominent film critic. Michałek saw Banaszkiewicz as a precursor who, in addition to valuing the role played by the films themselves, also appreciated the importance of film-related materials. "By profession a librarian-archivist" – Michałek wrote about Banaszkiewicz – "he possessed a huge amount of expertise. Rummaging around was his passion, and he was obsessed with things from the past – a scrap of film stock, a film still, a document, a cutting."
It would have been Banaszkiewicz who gathered the first collection of pre-war stills in Filmoteka Narodowa. He brought them to Warsaw, together with some film prints from the Łódź FilmSchool, which was where donors would give their various film artefacts that had survived the war before Filmoteka Narodowa was founded. Today, we don't know how large this first collection of pre-war stills was – in those years Filmoteka Narodowa did not even keep inventory books. But this collection was undoubtedly just the beginning of the vast collection of photographs stored today in Filmoteka Narodowa.
Then came further donations and purchases. In the 1960s, a private collector donated to Filmoteka Narodowa a priceless collection of 33 pre-war glass negatives – mainly from the films "Ludzie bez jutra" and "Carska faworyta". Given that most glass negatives like these had been burned or gone missing, these are just some of the few remaining traces of original negatives from pre-war film photography.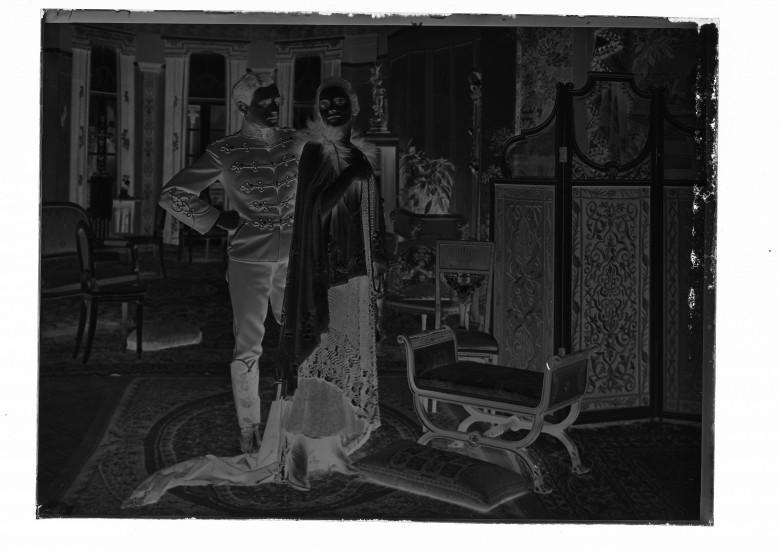 One of the 33 glass negatives obtained by the National Film Archive in the 1960s.
In 1961, Filmoteka Narodowa bought a few dozen negatives (no longer glass ones) for some pre-war films from Jerzy Starczewski, the famous exporter of Polish films to the United States before 1939. These are not the original negatives. Perhaps before the war someone might have made a kind of internegative, copying the master prints, which then went missing. Whatever actually happened, a scan of this material is of much higher quality than a regular scan of a paper print of a pre-war still. An important acquisition also were the paper prints of on-the-set production stills taken on pre-war film sets by Feliks Matuszelański, assistant DoP to Seweryn Steinwurzel. It is mainly thanks to Matuszelański that we can see today how Polish film crews used to work on the set and the equipment they used. Filmoteka Narodowa bought this material in 1959.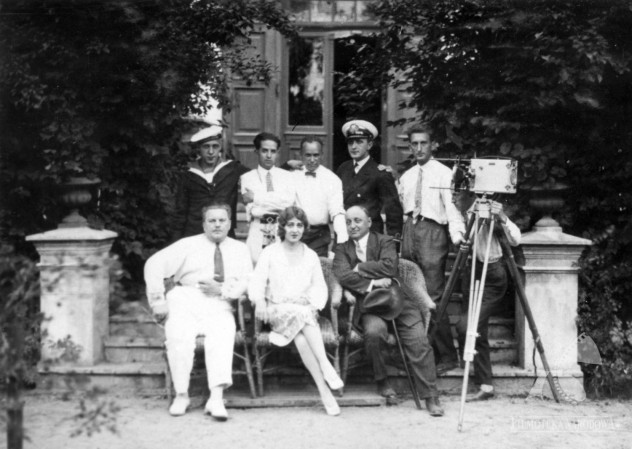 On-the-set production still from "Zew morza", taken by Feliks Matuszelański and obtained from his own collection.
Although the number of pre-war stills stored in Filmoteka Narodowa today numbers about 2,000, the collection will continue to be supplemented for many years to come. No one knows yet how many stills were made for the old films, so there is always a chance that something new can still be found somewhere. We are constantly endeavouring to get hold of such materials. In 2010, Filmoteka Narodowa purchased a collection of over 100 pre-war film postcards (depicting scenes from the films) from the collector Tadeusz Nieporęcki. In turn, in 2013, a private collector from Milanówek, who wished to remain anonymous, sold us 135 stills for such films as "Włóczęgi", "Ostatnia brygada", "Trzy serca", "Biały Murzyn" and "Róża". And in 2015 we bought the photographic archive of the film critic and cinema historian Zbigniew Pitera, which included invaluable stills from some of the oldest Polish silent movies and also postcards from various films with Pola Negri.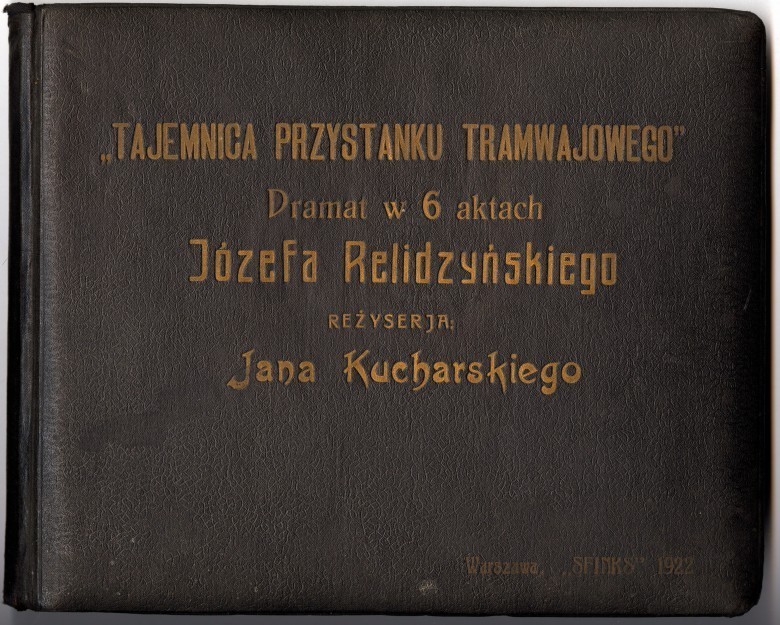 Front cover of a pre-war album
A real treat also are the pre-war album publications featuring paper stills. Some time ago, courtesy of Anna Smoleniec, the collections of Fototeka were enriched with scans from a pre-war album published to promote the premiere of the film "Przeor Kordecki – obrońca Częstochowy" by Edward Puchalski. At the end of 2015, we also managed to acquire a similar album made for the premiere of "Tajemnica przystanku tramwajowego". These kinds of publications are now very rare. They were printed in small quantities, and only for selected films. But most importantly - they usually contained different photographs from those put up in cinema display cabinets.
All these gifts and acquisitions have made it possible for the Photo Archive to create a website with a wide range of pre-war film stills which, of course, we will continue to add to as much as possible. And we still hope that someday someone will find somewhere some glass negatives for film stills from before the war.
The collection of stills from post-war films has been growing in a more systematic and predictable way. In the first years of its operation, at the end of production of each film, Filmoteka Narodowa purchased from Polfilm, which is engaged in stills production and distribution, the so-called advertising set (the one sent to all cinemas and press editorial offices). It was accompanied by a set of on-the-set production stills delivered to Filmoteka Narodowa in a special, large-format album by the production manager of each specific film. Of course, it is difficult today to class the paper stills supplied by Polfilm as colour stills; they have ORWO colour. They used to be reproduced in many books, but now they are used only if there are no other, better materials for the film.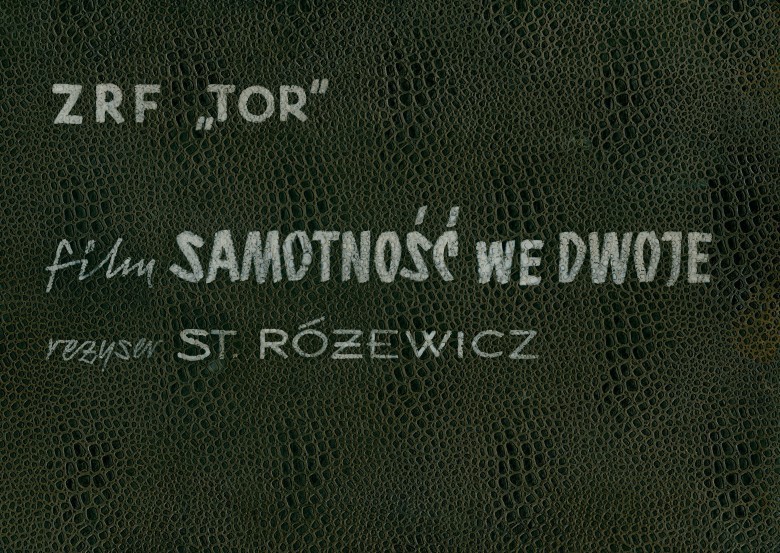 The front cover of a large-format album, delivered to Filmoteka Narodowa by the film production manager
It's unlikely Fototeka would even exist if it hadn't been for the collection of original negatives of film stills that the Film Studio in Łódź gave to the National Film Archive in three tranches – in 1974, 1987 and then in 1993 when the existing collection of negatives was supplemented with those from films produced from 1987-1989.These negatives represent almost all the material that still photographers took on the sets of Polish films produced in Łódź since 1946. The collection consists of many tens of thousands of frames. Only some of them were used to make paper prints, and most just lay around in boxes for years and were not taken out or published by anyone.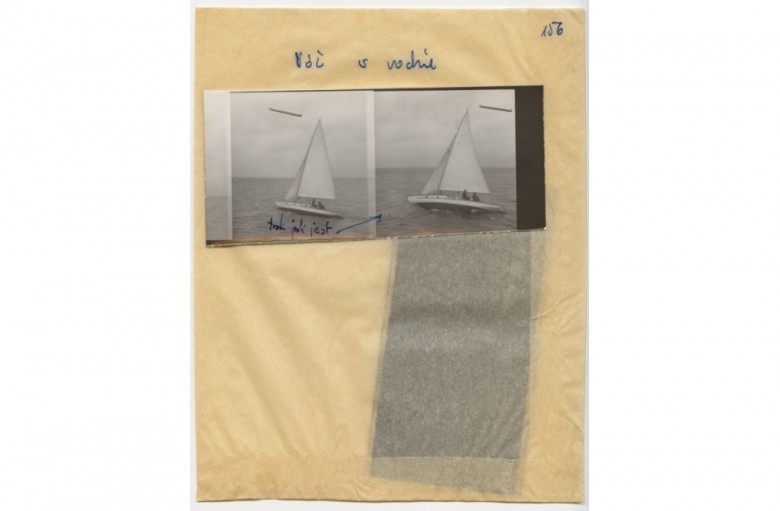 A negative envelope from the collection which the National Film Archive received from the WFF [Feature Film Studio] in Łódź
The many film titles include some of the greatest works from the canon of Polish cinema: stills negatives from films by Wajda, Kutz, Bareja, Morgenstern, Munk, Holland, Zanussi and Chmielewski. Hundreds of photos were taken by still photographers on the set of almost every film. We can count on the fingers of two hands the titles produced in Łódź before 1989 where there are few negatives or none at all. For example, there are unfortunately no negatives for "Sublokator" by Janusz Majestic or "Wśród nocnej ciszy" by Tadeusz Chmielewski. For such films, when we want to show the stills on the Photo Archive website, we have to use scans of the paper prints. Unfortunately, we have so far been unable to determine what happened to those missing negatives. After all, if they were not preserved in the Studio in Łódź, today they could be anywhere...
In 2002, the Feature Film Studio in Wrocław also gave us the stills negatives for the films produced there. This collection is not as comprehensive and includes only a few hundred negatives. It is not known what happened to the others. Perhaps the Wrocław Studio was not as meticulous in archiving their negatives as the Łódź Studio? It is all the more regrettable as it was in Wrocław where Wojciech Jerzy Has, Stanisław Lenartowicz and Sylwester Chęciński shot their greatest films. For example, we are still looking for the stills negatives from the film "Our Folks." Even so, we are delighted that Wrocław Studio was kind enough to give us whatever survived there.
The National Film Archive, as an important cultural institution dedicated to archiving film footage and film-related materials under the government's ordinance on heritage, also took over from other institutions responsibility for the collections of the liquidated film units, the Film Production Agency and the "Film Polski" [Polish Film] agency, which formerly dealt with the promotion of Polish cinema abroad. We acquired from the old film units and the Film Production Agency several thousand sets of paper stills which the Photo Archive uses when there are no shots among the negatives which we would like to show. The "Film Polski" collection, in addition to paper stills, also comprised negatives and diapositives made specifically for that institution by a still photographer on every film. These stills from the "Film Polski" agency were placed years ago in promotional materials and periodicals, for example in the English language magazine entitled "Polish Film" which was distributed abroad and contained information on events, awards, titles in production and the participation of Polish artists in various festivals around the world.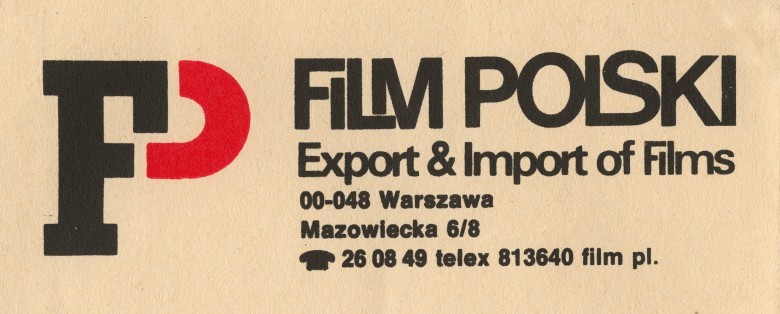 Logo of the now-defunct Polish Film agency
All the post-war negatives and stills mentioned above are termed "production materials" at Fototeka – because they were made by a still photographer who belonged to the film crew, and they were utilised by the production manager until the premiere of the film. But nearly half the photos on Fototeka website are another kind of material – so-called reporter negatives – from the collections of photographers who worked over many years with the film-related press (including such weeklies as "Film", "Ekran" or "Magazyn Filmowy"), i.e. by Jerzy Troszczyński, Roman Sumik, Tadeusz Kubiak, Romuald Pieńkowski and Jerzy Kośnik. Their work was always organised in the same way: they would visit a film set for a day or two and give the press editors their photos, which would then appear a week later along with a text describing the making of the film. The collections of photo reporters also comprise photo sessions with actors and directors from Polish cinema, usually photographed in their homes, theatres or radio stations. They say a lot about the fashion, interiors and hairstyles of the time. The collection of Jerzy Troszczyński includes other extremely valuable material: it also documents the gala premieres of Polish films (mainly from the 1960s and 1970s), usually held in Warsaw's "Moskwa", "Skarpa" and "Atlantic" cinemas or in the Congress Hall.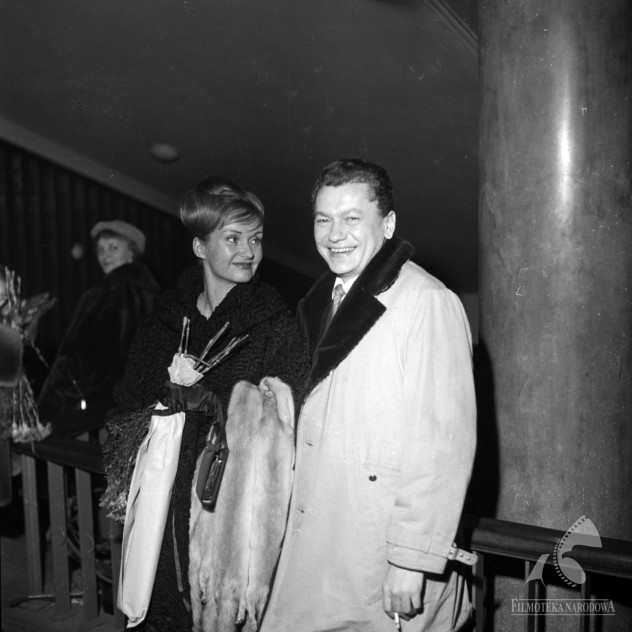 A photo from the premiere of the film "Jak być kochaną" by photographer Jerzy Troszczyński, from his own archive
The collection of Jerzy Troszczyński's negatives was purchased by Filmoteka Narodowa at the turn of 1981 and 1982. In 2006, we purchased the collections of Romuald Pieńkowski and Roman Sumik and, in 2010, that of Tadeusz Kubiak. Jerzy Kośnik also contacted us in mid-2015 with a proposal of cooperation: he would keep his original negatives in his own private archive but periodically provide us with the scans of photos from his film shoots which we can then publish on Fototeka website.
A separate interesting collection which Filmoteka Narodowa bought in 2011 was the collection of negatives from stuntman Krzysztof Fus, who at some point in his career in the film industry was also involved in taking stills. He took the stills for, among others, the popular television series "Dom" by Jan Łomnicki – for all the episodes shot in the 1990s, to be precise. Thanks to his other photographs, in turn, we can also get to know better the best Polish film stuntmen.
Other filmmakers often share their collections with us. In 2015, for example, we were able to copy the private on-the-set production stills of DoPs Grzegorz Kędzierski and Tomasz Snopkiewicz, who as a student took the stills for the film "W biały dzień" by Edward Żebrowski. In the same year, the daughter of Andrzej Łapicki, Zuzanna Łapicka-Olbrychska, made available to us her father's film material and at the beginning of 2016 – making it our most recent acquisition – Teresa Puchowska-Sturlis gave us several on-the-set production stills showing her and husband Edward Sturlis's work on their animated films. They both made their animations at the Se-Ma-For Studio.
Fototeka is not just concerned with live-action feature films. We are currently working on a collection of several thousand film stills negatives from the Se-Ma-For [Small Film Forms] Studio. It was provided to the National Film Archive at the turn of 1999 and 2000 when the Studio was transformed from a state company into a private company. Se-Ma-For's negatives are mostly photos from animated films made at the Studio by the greatest exponents of the genre: Zenon Kwasniewski, Edward Sturlis, Tadeusz Wilkosz, Jerzy Kotowski, Daniel Szczechura, Lucjan Dembiński and the Oscar winner - Zbigniew Rybczyński.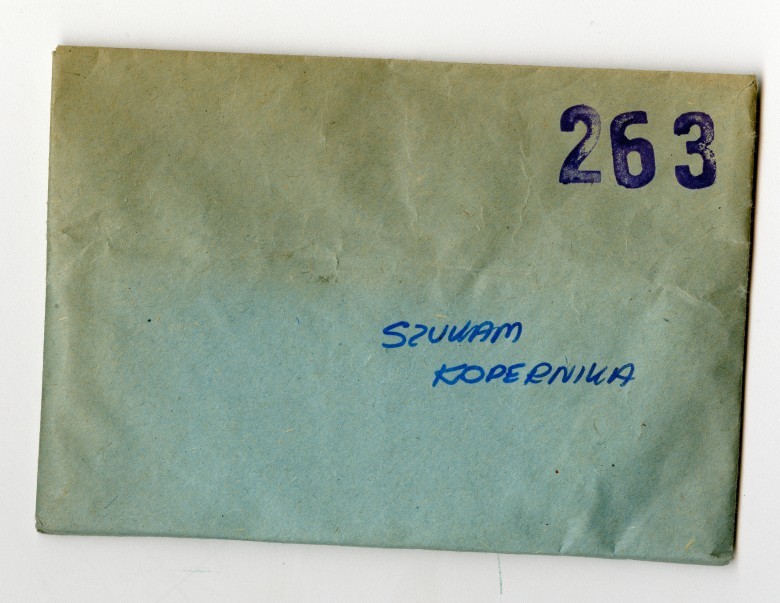 A negative envelope from the Se-Ma-For [Small Film Forms] Studio archive. On the envelope is the working title of the film "Skąd pociągi do Paryża nie odjeżdżają" by Mieczysław Lewandowski
Fototeka website already features a large part of the processed photos from this collection. They are not just cartoon stories for children, but also animations for adults. Viewing them so many years later again reveals the philosophical wisdom contained in them dressed in an original form. Preparation of these materials, especially the on-the-set production stills included in this set, was quite difficult: the animators at the Se-Ma-For Studio are not always known by face so we had to carry out a painstaking identification process, relying on the relatively poor literature and the help of the animation filmmakers themselves. Thanks to them, we were able to identify the people who took most of the stills from the Se-Ma-For Studio. Although we identified the faces of the crew members from feature films in a similar way, it was slightly easier with them: quite simply, more people knew them and they worked in a larger group so now it is easier to find someone who remembers them and knows what they looked like.
In 2012, the last of these large collections came to us: the negatives and stills from the Film Miniatures Studio, created by Jan Lenica and Piotr Dumała, among others. As a result, it meant that a huge part of the stills related to Polish animation was in the archives of Filmoteka Narodowa. We estimate that all the materials described – both provided by the studios and bought from private individuals – amount now to about a million negative frames and stills. There is still a long way to go before they are all ready to be published on the Fototeka website, but we hope that it will be sooner rather than later.
Today, film stills from new Polish films come to us only in digital form. This is a completely different type of material and a different kind of archive work. Whether it is better will only become apparent in a few years when the next generation of researchers try to look at them.
Piotr Śmiałowski
A big thank you to Ms Krystyna Nowicka and Ms Aleksandra Glinicka and Mr Grzegorz Balski and Mr Adam Wyżyński for their help in determining all these long-lost facts.